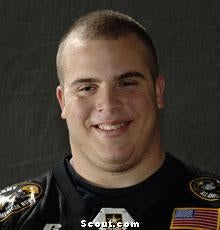 Former University of Michigan offensive lineman Justin Boren is now officially an Ohio State Buckeye, a development which has caused much gnashing of teeth around college football. This is the first time ever that a Wolverines player has gone over to play for their most hated rival, which should raise some suspicions, I would think. Didn't Luca Brazi try that in The Godfather? Result: Knife in hand, and a stranglin'. Things like this just usually never work out.
Former Michigan offensive lineman Justin Boren, who left Michigan in mid-March citing a "decline of family values" under coach Rich Rodriguez, has transferred to Ohio State. Boren started all of last season at center and left guard for Michigan. Ohio State coach Jim Tressel confirmed the transfer to the Columbus Dispatch for a story in today's edition.
Fortunately, Michigan fans are taking this well.
Boren of course will have to sit out a year before playing his final three seasons with the Buckeyes; a situation made all the weirder by the fact that his father, Mike, played for Michigan under Bo Schembechler in the early 1980s. A bit surprisingly, not all Ohio State players are completely on board with this.
UPDATE: Michigan fans still taking the news well.
Justin Boren Transfers To Ohio State [Detroit Free Press]
Justin Boren Sweepstakes [Buckeye Commentary]