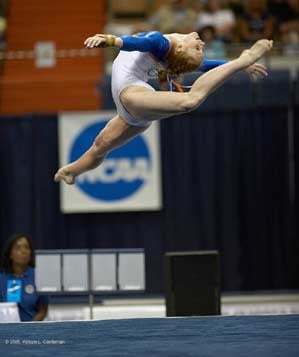 You might remember, back in December, when the NCAA unleashed its hilarious rules on live blogging, which included this gem about how often live blogs could be "updated":
Wrestling: Ten per session
Indoor Track and Field: Ten per day/session
Swimming and Diving: Ten per day/session
Bowling: Ten per day/session
Gymnastics: Ten per session
Well, some brave soul over at al.com — "Everything Alabama" — is stuck with the unfortunate assignment of covering the NCAA gymnastics championships and ... look out kids ... he's blogging!
The doomed soul is Paul Gattis at Crimson Chatter, and we wish him well. If you find Mr. Gattis outside Stegeman Coliseum in Athens, Ga., tied up, gutted and dumped in an alleyway ... well, Mr. Gattis, you fought the good fight, and future generations will not forget your sacrifice.
Watch Your Field Hockey Updates, Buddy [Deadspin]
I'm Blogging! I'm Blogging!, [Crimson Chatter]