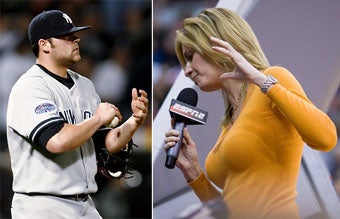 Actually I have no idea what the Yankees' Joba Chamberlain said to Erin Andrews at the conclusion of their interview on Wednesday, but whatever it was, Andrews was obviously repulsed. You can check out the video here and judge for yourself. Man, it looks like she just ate a bug. So then can it just be coincidence that Chamberlain suffered his first career loss the next day, giving up the winning run in the ninth in the White Sox's 7-6 victory? Joe Crede's run-scoring single won it.
The loss snapped New York's three-game winning streak. Chamberlain struck out two and retired the side in order in the eighth, but Carlos Quentin's one-out double and Crede's line single to center in the ninth did him in. "I only threw one curveball and that's the one that got hit," said Chamberlain, not mentioning his fateful interview with Andrews. "The disappointing part is that I let my team down." The Yankees have been saying for quite some time that the hype surrounding Chamberlain — who has pitched all of 33 1/3 innings in the big leagues — is getting out of control. And now he apparently says something inappropriate to Andrews, and knocks his career off the tracks. Yes, Joba Chamberlain flew too close to the sun, and now must fall back to Earth to fend for himself like other mortals. Pray for him.
• Rags To Riches Story. The tattered David Ortiz jinx jersey — the one that Yankees officials had dug up from beneath their new stadium earlier this month — sold at an eBay auction for $175,100 on Thursday. The Red Sox then went out and lost to the Angels, 7-5, powered by Gary Matthews Jr.'s two-run single in the seventh.
• Frank Is Back. Oakland's cleanup hitter looks familiar ... hey, it's Frank Thomas. The Big Hurt is back, having agreed to terms with the A's after being released Sunday by the Toronto Blue Jays. He went 0-for-3 with two walks, the A's scoring six runs in the first in an 11-2 win over the Twins. Donnie Murphy had solo homers in the fifth and sixth innings.
• Things Looking Up In Washington. Felipe Lopez tied a career high with six RBI thanks to a homer and a two-run single, leading the Nationals past the Mets 10-5. Meanwhile, Elijah Dukes finished his probation by mopping out zoo cages, and should be back soon for Washington.
• Giants Not In Last. Tim Lincecum (4-0, 1.23 ERA) extended his scoreless streak to 16 1/3 innings beating the Padres 1-0. Rich Aurilia homered for the only run. San Diego is 7 1/2 games behind the front-running Diamondbacks in the West.
• Today's Quiz. OK, are the Tigers officially back, or are the Rangers just that bad?
(UPDATE: Andrews says she was talking to her producer, and that Joba's fine.)