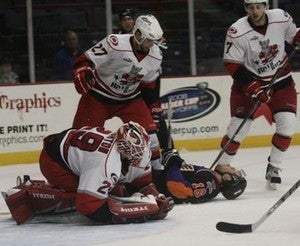 Announcement: Michael Leighton is not in the mood to take out the freaking trash tonight — or for any other goddamned requests — after making 98 saves in an American Hockey League game ... and losing. Shit! Leighton and the Albany River Rats lost in the longest game in AHL history on Thursday, when Ryan Potulny scored at 2:58 of the fifth overtime to give the Philadelphia Phantoms a 3-2 victory in the first round of the playoffs.
In the previous longest game in the AHL, Michael Ryder scored at 14:56 of the fourth overtime to give Hamilton a 2-1 victory over Houston in the 2003 Calder Cup finals. In the longest game in NHL history, Mud Bruneteau scored at 16:30 of the sixth overtime to give the Montreal Maroons a 1-0 victory over Detroit in the 1936 semifinals.
Ah, those were the days, when guys named Mud played for teams named the Maroons, and a simple playoff win did not precipitate a riot
AHL Goalie Makes 98 Saves ... And Still Gets Beat [MSNBC]
Canadiens Fans Advance To Second Round With Quiet Dignity [Deadspin].