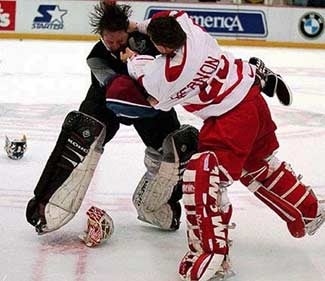 The NHL Closer is written by the five big kids over at Melt Your Face-Off. Separated, they are a quintet of meandering hockey bloggers. But combined, they make up the most powerful Blogging Voltron the Interwebs has ever seen. That is, if one of them would just give in and agree to be the fat guy who pilots the Yellow Lion. Stubborn bastards.
1997 was a time when The Worldwide Leader did, in fact, cover hockey. Barry Melrose got to showcase every last one of his tragically pinstriped suits. Darren Pang was on the payroll and could be counted on to fit into the small spaces behind desks should you drop your pen back there. Hell, NHL2Night was a nightly fixture, giving The Deuce something to break up all the thrilling coverage of a group of guys sitting around a table staring at playing cards. And yes, the only rivalry that could overcome Bristol's East Coast Bias was the Detroit Red Wings and the Colorado Avalanche.
So on a night where the Four-Letter did its best to pretend it cared about the overall well-being of Major League Soccer, they wanted you to know that they still had their eye on the first Wings-Avs playoff series in five years. How? But of course, by going to the archives and using that damn Vernon-Roy photo, that I've used above, on their homepage. As my comrade Raskolnikov alluded to in our Series Preview, this photo will have nothing to do with this series. But hey, it's not all bad. Mike Vernon's mother is making a scrapbook of all the press clippings of her son's career, and it's nice to keep her on her toes.
Hear Me Now unt Believe Me Later. And while so many of those players from that bloody 96-97 rivalry are strangely still around, Detroit winger Johan Franzen most certainly was not. While many of his teammates were forging the hottest hockey rivalry of the decade, the 6'3" Franzen was but a Swedish teenager, pursuing a future in culinary arts. As a rookie two years ago, he was limited to checking roles, making sure the best scorers on the other team had difficulty lighting up Old Man Hasek. This year, however, he's come into his own. And by his own, we must mean complete domination of the Colorado Avalanche.
After an early 1-1 tie, Franzen cut through the center of the Avs defense, (which includes Adam Foote, so I'm using the term 'defense' loosely), drew every Colorado player around towards him and dished to Daniel Cleary. Cleary shot from the right side, only to have Jose Theodore make the initial save. Of course, I say initial, because the Avs' netminder forget to control the aerial rebound that ended up in the net some 90 seconds later. Four minutes later, our new favorite Swede found himself on the power play, taking a Kronwall shot from the point and redirecting it for a 3-1 lead (Yes, Adam Foote missed this one, too.)
After a good intermission rest, Franzen came back one minute into the second and blasted a left-handed slapshot from the slot past Theodore, and that would do it for the Detroit scoring. Sure, Colorado came back to end up within a goal. Who knows, maybe if, I don't know, PETER FORSBERG played last night, we'd be writing a different Closer.
Sources close to Mike Vernon said Forsberg is also "too damn old" for playoff hockey. — Hextall454
Like a woman in a gas station bathroom. The Montreal Canadiens were almost doomed by their refusal to dump. After Joffrey Lupul put the Flyers ahead 3-2 with a power play goal at the start of the third, Philadelphia put on an absolute clinic, standing up four wide at their own blueline.
Montreal insisted on carrying the puck into the zone, to little effect. Occasionally, someone would squeak by the defense and get off a weak wrister, but with no one else in the zone, the Flyers just cleared the rebounds away. Even my 20-month-old daughter was yelling "FORECHECK" at the screen.
The Flyers had jumped out to a 2-0 lead in the first, but Andrei Kostitsyn and Alex Kovalev tied it up in the second. A late third-period power play goal, again by Kovalev, sent the game to OT. The Flyers played a terrifically smart game, only taking two penaltiesin regulation. But Tom Kostopopopopolous pulled the game out for Montreal just 48 seconds into OT, following (gasp) some terrific forechecking. "It's about fucking time." We're really going to have to work on that potty mouth before she starts preschool. — LeNoceur
Puckdumps
Just when you thought the Flyers turnaround between series was too short, Scott Hartnell proves 48 hours is way too much free time. [ The 700 Level]
Speaking of "ridiculously obsessed with fashion," we give you The Cock Knocker Wears Prada [ With Leather]
And finally, MYFO has come to Detroit to see some playoff hockey tomorrow afternoon. Any Deadspinners going to the game? Letus know, and maybe we'll grant you a MYFO exclusive. Your thoughts on hockey will be read by tens of people.