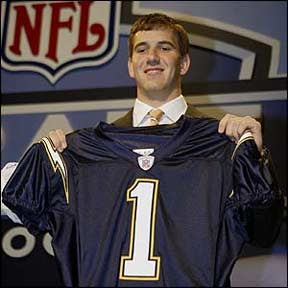 OK, so Drew absolutely convinced us: We're actually gonna watch a little bit of the draft this weekend. And not just because we're crossing our fingers that our Buzzsaw will end up with the Illini's Rashard Mendenhall. Though we are.
Some positive news: The first round won't take nearly as long this year, even though it's not starting until 3 p.m. ET. (If you can tear your eyes away from the Raptors-Magic game.) We'll be rocking it out over here too, with Michael Tunison Christmas Ape hand-in-hand with Michael Tanier of Football Outsiders discussing the draft at least until they get too tired.
Ah, the NFL Draft: The event sports fans cannot possibly explain their attraction to any non-sports fan. Stepping outside, it really doesn't make any sense. But alas. And remember: There are always drinking games.