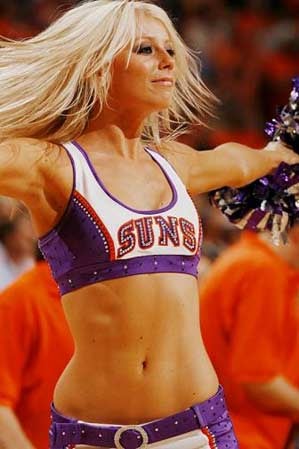 It's Friday. Take a break from thinking for yourself and let me tell you what to pay attention to during tonight's games.
Detroit versus Philadelphia: Game 3
The Pistons' attention span: They can beat anybody. The can also lose to anybody ... when they aren't totally focused. Which Detroit team is going to show up tonight? It's anybody's guess.
Andre Iguodala: Philly's leading scorer (19.9 PPG during the regular season) is averaging only 10 PPG on 20 percent shooting through the first two games of this series. Expect those numbers to improve tonight.
Rasheed Wallace: 'Sheed is Detroit's playoff leader in points (20.0), steals (1.5) and blocked shots (5.0). But even if that wasn't the case, he's always worth keeping an eye on.
Reggie Evans: What he did to Chris Kaman was horrible. But tell me the truth: Wouldn't you sort of like to see Reggie try doing that to 'Sheed? Wouldn't we end up talking about that for the rest of our basketball-watching lives?
Chauncey Billups: Mr. Big Shot has been pretty quite so far. If the Pistons are going to bust the Sixers on the road tonight, they're going to need Billups' leadership...and probably a few big shots, too.
The Philadelphia crowd: They're going to be loud and rowdy, but things could turn ugly if their team doesn't bring it. And objectivity be damned, I wouldn't mind seeing this long-suffering fan base get a little something to be happy about.
New Orleans versus Dallas: Game 3
Chris Paul: Through two games, CP3 has done everything short of eating Dirk Nowitzki's liver with some fava beans and a nice Chianti. Translation: He's been a stone-cold cowboy killer. You know, if you're impressed by 33.5 PPG and 13.5 APG ... and a 2-0 series lead. Of course, I have a feeling the dudes in the striped shirts are going to give the Mavericks a little more defensive leeway in Dallas ... which would sure make it a lot easier to hold Paul in check.
Dirk Nowitzki: In Game 2, Herr Poopypants looked like he was about this close from having a conniption fit, especially after his soulless scream into empty space. With Dirk, you never know whether mindless rage is a good thing or bad thing; it might mean he's going to come out and destroy the Hornets tonight, or it might mean he's finally going to get led off the court in a straightjacket. The odds are about 50-50.
Mark Cuban: Whether it's tampering with the game discussing the finer points of officiating with the referees or staring daggers at his own coach, everyone's favorite billionaire blog-hater will be somewhere in the vicinity of the Dallas bench, making his presence unmistakably known.
Peja Stojakovic: On one hand, he's averaging 18 PPG and shooting 60 percent from three-point range against the Mavs. On the other hand, he has a rather infamous history of disappearing on the road in the playoffs.
Jason Kidd: It's hard to believe, but J-Kidd has regressed to being a slightly-better-than-average point guard (9.0 PPG, 8.5 APG, 40 percent shooting). And a way-below-average defender (against Chris Paul, anyway). Can he recapture some of his old triple-double magic and revive the Dallas offense while putting the clamps on Paul? I doubt it. It's more likely he's going to become Paul's new poster boy.
The New Orleans bench: The Hornets don't get a lot of production from their bench, which puts a lot of pressure on their starting give to all have big games. That can wear out anybody, even young fellas like Chris Paul and Tyson Chandler. If Bonzi Wells and/or Jannero Pargo could provide a spark, that could go a long way toward helping New Orleans break through on the road.
San Antonio versus Phoenix: Game 3
Tim Duncan: When I previewed this series, I said that Tim Duncan was starting to show the first slight signs of decay. Man, I am a friggin' genius, huh? Timmy has not only owned the paint (29.0 PPG, 16.0 RPG, 3.0 BPG), he also hit the three-pointer heard 'round the world. It's safe to say he's turned it on for the playoffs. Now, can Shaq and the Suns turn him off?
Shaq: All the Big Cactus has to do is rebound, score in the paint, stop dribble penetration and shut down Tim Duncan. That's all.
Those unstoppable drives: Phoenix was completely incapable of keeping Tony Parker (32 points) and Manu Ginobili (29) out of the paint in Game 2. I've seen more aggressive D during a layup drill. If the Suns can't come up with a better plan for their interior defense, you can expect them to fall into a 3-0 series hole tonight.
Steve Nash: Despite the fact that he's been wearing a Bruce Bowen-shaped cement overcoat, Captain Canada has picked up his game (24.0 PPG, 54 percent shooting, 11.5 APG). That's been easy to overlook, though, since the Suns are down 2-0. But make no mistake: Steve Nash is the Phoenix offense, and he will be until his plaster of Paris back crumbles into dust.
Bruce Bowen: Because he's San Antonio's first line of defense against Steve Nash. And because something like this could happen at any time.
Amare Stoudemire: Bottom line: He's dunk-tastic. (Not to mention the Suns' leading scorer at 33.0 PPG.)