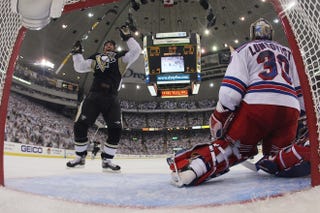 Perhaps next time Jaromir Jagr should Czech his trash talking at the door (PUNTASTIC BURN!!!!) as the not quite Mario Lemieux-level Sidney Crosby and Evgeni Malkin helped to erase a 3-0 Rangers lead to give the Pens a 1-0 series advantage. Jagr had a chance to tie in the waning moments, but clanged it off the goal post. Fellow former Pen Martin Straka got the scoring started, followed a slightly high deflection by Chris Drury and not at all detestable Sean Avery. Straka drew a critical interference call late in the 3rd period that set up the winning goal off Malkin's shin.
Good Morrow, Sir. Brenden Morrow had two goals, including the game winner in OT to open the Stars series with the Sharks, who now lose home ice advantage after needing seven to take out Calgary. Morrow already has five goals in these playoffs, eclipsing by two his previous career high.
John H. McConnell, 1923-2008. The majority owner of the Blue Jackets passed away yesterday, casting further uncertainty over the future of the franchise. The Blue Jackets had one of the best expansion seasons in league history in 2000, but failed to live up to the expectations the following year. McConnell was the rare owner to apologize to fans after not meeting expectations.