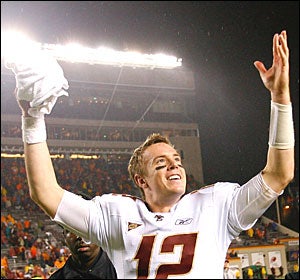 The Falcons wish to remain anonymous. After a year of dog torturing and climb-out-the bathroom-window coach quitting, the team would like to return to the quiet old days when David Archer was the quarterback and the average crowd rivaled the turnout on the Asia reunion tour. They hired someone named Mike Smith as head coach because no one named John Doe was qualified for the job. With Michael Vick, D'Angelo Hall, Alge Crumpler and Warrick Dunn all gone, the team had to decide who belonged on the cover of the media guide: Keith Brooking or Funky Winkerbean.


Now, they finally have someone to namedrop during television promos (Sunday, Reggie Bush, Drew Brees and the Saints take on um ... um ... um ... the Falcons!). Ryan is more than a quarterback. He is one of America's greatest heroes. He fought terrorists, taught at the naval academy, helped capture a Soviet submarine captained by a defecting Russian officer with a strange Scottish accent, and even became president of the United States.

Oops, that was Jack Ryan.

Matt Ryan's just a quarterback from Boston College. Golden Eagle quarterbacks come in all shapes and sizes. Some are tall, like Ryan (a strapping 6-4 plus change). Some are short, like Doug Flutie (but with scrappiness to spare!) Some are bald, like Matt Hasselbeck. Some are married to cute-yet-shrewish succubae, like Tim Hasselbeck. Some, like Brian St. Pierre, just are.

And Ryan is a better prospect than any of them, better than Flutie, better than Hasselbeck the non-Elizabeth Encumbered. He isn't getting the superstar treatment some top quarterback prospects earn, in part because he broke his foot in his junior year and has a Favrish tendency to throw interceptions right into defender's chests. But Mike Mayock (who knows a little something about this stuff) points out that Ryan had no one to throw to at BC and often had to force passes just to generate offense. And once the foot healed last year, we saw that he had mobility to match his arm and decisiveness. Ryan is ready to play right away.

And I'm told that Ryan simply loves animals.