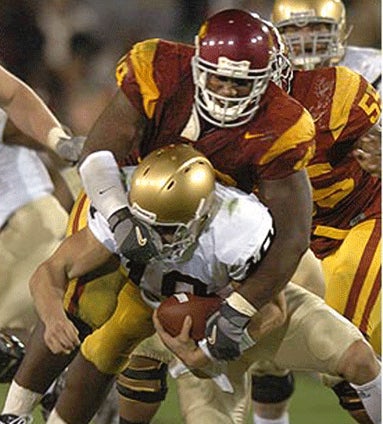 The Patriots, wheeling and dealing? Next thing you know they'll be doing something shifty. Without waiting for the details, I am going to assume that they just took the Saints first round picks thru 2017 to allow them to move up five slots.


Ellis found himself at the center of one of the most pointless controversies of the off-season. The cast of characters: Ellis, a 300-pound bulldozer; Pete Carroll, USC head coach and feel-good granola guru of California football; and Tim Krumrie, Bengals coach and ex-lineman from the days when men were men and "Last Call" had to be enforced with multiple taser blasts.

Krumrie was at USC's Pro Day, putting the prospects through their paces in black cowboy boots and blue jeans; he left his chaps and spurs back at the Hotel Middle Aged Tough Guy. In Krumrie's hand-fighting drill, defenders like Ellis must stay in good football position while swatting Krumrie's hands off their shoulders and hips. The drill is easy at first, but it's hard to keep your knees bent and hips low while resisting the advances of a 47-year old Sam Elliot impersonator, and portly defenders quickly get gassed. The drill continues until the prospects drop from exhaustion and Krumrie's manhood is reaffirmed. Carroll seethed through the drill at USC, worried perhaps that Krumrie might misalign his player's chakras or damage their self-esteem.

Ellis performed very well in this dubious exercise, humoring Krumrie for several minutes after his teammates face-planted. He also ran a 5.02 40, benched 225-pounds 36 times, and weighed in at 297 pounds. When he's in shape (which is now), Ellis has great strength and stamina, and his fireplug-shaped body makes him a great run stuffer and pocket collapsor. Ellis was very productive in 2007, with 8.5 sacks and 12.5 tackles for a loss, so he has a lot more to offer than size and space-eating ability. He also gets high marks for leadership and character, which may have helped him push through the burn while fending off Krumrie.

In the end, Ellis helped his draft stock at Pro Day, and the Saints are getting a fine defender in the middle. Trouble is, they needed a cornerback more. Our Football Outsiders Game Charters watch every single millisecond of every game, and they take note of things you can't find in traditional stats. For example, they list who was covering every receiver who catches a pass so we can better evaluate defensive backs. So if Marvin Harrison caught a 10-yard pass against Dunta Robinson, our charters make a note in a spreadsheet like this: Harrison, short left, 10 (D. Robinson).

Here's what a typical spreadsheet looks like for the Saints defense:

Galloway, deep middle, 25 (Uncovered)
Galloway, short left, 10 (Still uncovered)
Galloway, short right, 15 (Not a single Saint in the frame)
Galloway, short left, 18 (Could have parked an AirBus on Galloway's head without harming a Saints defender)
Hilliard, short right, 8 (Galloway was uncovered deep, but Garcia's arm was tired)

The Saints finished 32nd in the NFL in DVOA against #1 receivers, by a huge margin. They needed defensive backs, and not just the kind you grab during moments of free agent weakness (Randall Gay and Aaron Glenn). Yes, a good line can help the secondary. But so can a good secondary.

Ah well. Ellis is rich, Carroll's reputation as the Deepok Chopra of college athletics was further reinforced. And Krumrie's needs, whatever they might be, were sated for another year, which probably makes all of us a little safer.