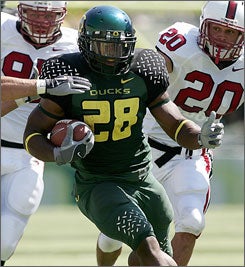 Okay, where's Tanier going here? Is going to go the "Jon Stewart" route and make lots of Daily Show (or "The Faculty") references? Is he going to make fun of Oregon's Rejected Nickelodeon Teen Superhero uniforms? Maybe go old school for some Jimmy Stewart references?


Nope. Not gonna pull any worn-out jokes off the Jon Stewart mill. It wouldn't be, I dunno, utilitarian. Stewart's a low-built power runner with very good hands. He showed what he could last season when the rest of the Oregon offense made a big stinky after quarterback Dennis Dixon got hurt. Stewart kept on chooglin' despite the stacked fronts, finishing the season with 253 rushing yards and two touchdowns against South Florida in the Sun Bowl.

He then had off-season turf toe surgery. Those who make fun of turf toe should be forced to walk on it for two weeks. It's like giving birth to a 12-pound bowling ball, through your toe. The ailment is serious, but the surgery was successful, and Stewart should be full speed for the start of camp. Once the toe heels, Stewart has Curtis Martin potential. Not bad for a guy who played college football in a uniform that looks like it was designed by a 60's rock band for a former Eastern Block country to wear to its first ever Olympics.

Sorry, had to squeeze just one in.

Anyway, the Panthers need skill position players, because they can't keep signing Brad Hoover every year and making him the third option in their offense. Yep, they signed Brad Hoover again. They'd sign Wesley Walls again if they could. At least Stewart is a new face.