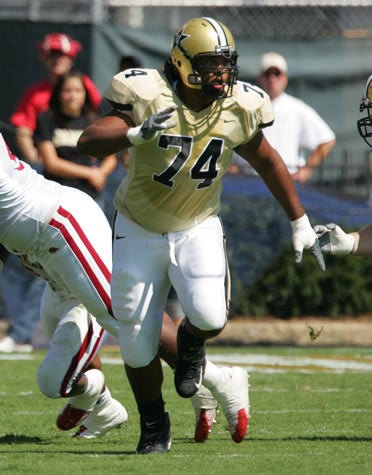 There are worse things to watch than the Bears offense. For example, there's:

1) Put up Your Dukes
2) Your maiden aunt shaving her legs, etc.
3) Fake-reality YouTube videos of a teenage emo-girl whispering her breathy secrets ("my parents hate me") into a webcam 2.3 millimeters away from her chin.
4) Video of the Bears offense when Kyle Kid "Whiskey" Orton was under center.


Hopefully, Williams can shake that Bears offense up a little. The team finished 30th in Adjusted Line Yards, meaning that Cedric Benson and Adrian Peterson had few holes to run through, not that they did much with the holes they had.

Williams should help. He has already graduated college. He is already married. The kid's so mature that he's going to have a midlife crisis at 28 and start writing rambling letters to the editor about the good old days by 33.

Williams gets high marks for character, intelligence, and all those other intangibles. But that doesn't mean he's a roly-poly nice guy who can't pick up his feet. He allowed just two sacks in two seasons at Vanderbilt, despite the fact that the Commodores moved him all over the line. He moves well, can deliver a blow when he has to, and played well against the top defensive ends in the SEC (like Derrick Harvey). The downside: some analysts think he lacks a football demeanor. In other words, he's too nice. Maybe Bill Romanowski should run a pre-draft Lunatic Camp for guys like Williams so they can foam at the mouth more convincingly during interviews.

But then, those analysts may be on to something. Vanderbilt line coach Robbie Caldwell said that Williams turned some heads in the business world during his recent internship. "He has job offers galore," Caldwell said. I can see Williams scratching his head now. "Starting tackle for the Bears, assistant regional sales manager at Staples, or editing ReadMe files for Apple software. Gosh, they are all good offers!"

Of course, he has to block for Rex Grossman, so maybe Staples does have its charms.