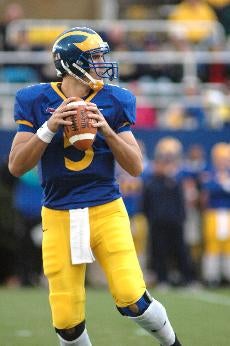 Joe Flacco came from a bad neighborhood. Audubon, New Jersey, is rougher than the Little Rock with East St. Louis piled on top of it. Flacco graduated from Audubon High School, which is so rough that there are medal detectors in the faculty lounge, where even the math teachers are pumped up muscle men who can crack walnuts with their butt cheeks. It was a nasty, scary environment, and ... I KID! I kid!

Seriously, Flacco's from the suburbs. A pretty little town with a great deli on Merchant Street. He could hit my house with a football from his house. Of course, he could hit your house, or the Hubble telescope, from his house. His arm is that strong: popsicle through a blast furnace without singing the stick. Mayock knows. And I know, because I am proud to have watched the young man play in high school, when he was just 6-foot-3 and could only throw about 55 yards.

Flacco's a great young man from a great environment, a guy who got trapped behind Tyler Palko in Pitt but became a I-AA superstar at Delaware. He doesn't have a lot of experience in a pro system and will have to learn to drop from under center. But he's a great athlete who is faster than your average Drew Bledsoe-sized kid. And he's smart enough to learn the Harbaugh-Cameron system. Take it from his former calculus teacher.

Sorry, very few jokes here. I'm just super proud for this young man and for our community. Congrats, Joe, and your family!

I'll go back to being an ass in a minute. Promise.