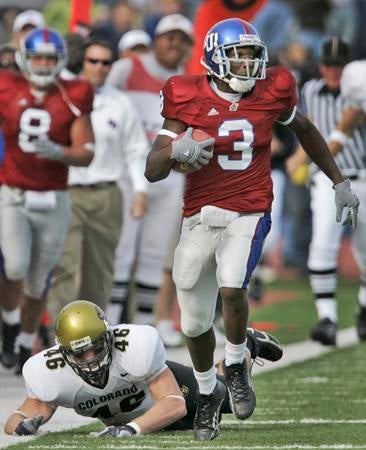 Talib blew off his scheduled visit with the Cowboys last month. Mario Manningham blew the Cowboys interview off at the Combine. Now I hate the stinkin' Cowboys as much as any kid who grew up a snowball's throw away from Veterans Stadium, but since when do NFL prospects blow off the Cowboys? They're a glamour franchise coming off a great year, and their owner is one of the most powerful men in sports, a guy who drives a cement mixer filled with hundred dollar bills and will drop them in a player's driveway if he likes what he sees. What are these kids thinking? "Oh, Jerry Jones wants to talk to me, but I just bought Super Smash Bros. Brawl for Wii, and I can't go anywhere until I figure out how to beat Sonic with Samus."


Oh, Talib smokes grass. That explains it.

Talib's marijuana problems (he tested positive three times at Kansas) shouldn't surprise anyone. In many photos, the kid's a dead ringer for Snoop Dogg, though in fairness I should point out that Snoop is taller, probably tackles harder, and wouldn't be caught dead in a red Jayhawks jersey. KU coach Matt Mangino downplayed the pot allegations, saying that Talib is a guy "you'd have babysit your kids." Note that Mangino said Talib could babysit your kids, not his kids. For the record, Snoop is one heck of a youth-league coach, and I would trust my kids with him, if only because I'm sure Pharrell Williams would be doing all the work.

Talib may look like Snoop, but his role model is Deion Sanders. Sanders took Talib to lunch in early April and gave the kid some pointers: don't smoke pot, don't blow off Jerry Jones. Hopefully, Talib took the advice to heart. He has a Primetime-esque resume, with great quickness, hands, and return skills. He doubled as a receiver at Kansas and has loads of big-play ability. He also has some of Sanders' shortcomings: poor tackling skills, an ego that's visible from space.

Plus he smokes grass.

Talib seems like a bad fit in Tampa, where they expect cornerbacks to play close to the line and tackle running backs. Mike Jenkins and others are still on the board. But maybe Deion Sanders and Ronde Barber can take him under one wing each. Sanders is already threatening to "pick Talib's brain" on NFLN. Oh my.

The Eagles have traded down. The top 20 is over. The Joe Flacco selection press conference is imminent. Time for Mike Tanier to disappear. But not before self-pimping. Check me out on Football Outsiders, buy Pro Football Prospectus in July, chat with me live on Baseball Prospectus Monday at 3 PM, and look for me in "Leaf" the independent film about the legendary draft bust, which is playing Sunday night at 7:30 PM at the Broadway Theatre in Pitman, New Jersey. I'll be there, talking movies and talking draft!