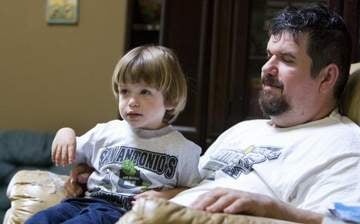 This unfortunate youngster, other than being forced by parental duress to sport the bowl cut, was born unto a couple of deranged Spurs fans. How unhinged, exactly? Instead of buying a team photo or something to encapsulate their love for the team, they decided to put the whole roster into their kid's name.
The result: Parker Duncan Ginobili Till.
Consigned to a lifetime of being a whipped, boring, flopping disaster. Till is the family name, but it might as well be in recognition of Emmett Till for how depressing this is.
So as they watch the playoffs, San Antonio natives Rhonda (now 44) and John Till (now 40) mull names.

Parker's nice, they agree, while point guard Tony Parker does his floor general bit.

Duncan's not so bad either, John suggests, as former Wake Forest star Tim Duncan leaps over players to score a basket.

Rhonda approves. Then John goes too far.

"What about Ginobili?" he says, referring to Argentinian guard Emanuel David "Manu" Ginobili. "He's the other superstar on the team. We've got to have him in."

An adamant Rhonda says: "No way."

Several months later, Parker is born. And in what John calls a "weak moment." Rhonda consented to Ginobili.
I don't include the blockquote to add anything for the story, but to get a jump on highlighting that excerpt for court documents.
I have a sneaking suspicion this kid's life will be an endless cycle of "weak moments." And aggravated assault. Punctuated with frottage fests.