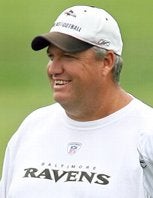 This is the first year the Ravens have held minicamp in 10 years without choking on the fumes of Brian Billick's smug. One thing remains unchanged: the complete disorder. It just wouldn't be the Ravens without it. Nearly all of the 85 players in camp were involved in a brawl yesterday that started with an offensive and defensive tackle getting in a dust-up after a hard tackle on a running play up the middle. But, hey, no stabbings! It's a new day!
In a way, that's how Harbaugh likes it. Seeing two players fight on the practice field is nothing new, but to have the rest of the team join the fray is a sight not often seen on the football field. Yet none of the coaches immediately sought to restore peace, and defensive coordinator Rex Ryan was actually laughing as he stood in the background.
Sure, that would be the same Rex Ryan who was passed over for the Ravens' head coaching job. I'd be laughing too if my inexperienced successor had already made a hash of things during his first minicamp. That and Ryan generally has the same shit-eating grin on his face at all times.