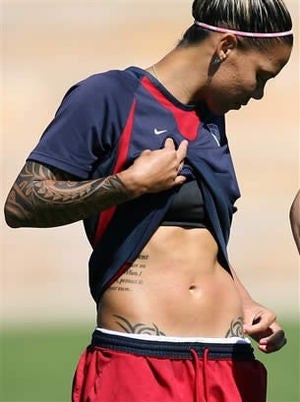 Now that Mother's Day is drawing to a close, we can get back to objectifying women. Just funnin'. I'm only interested in Rich Garces' tits. Or, failing that, Bobby Jenks'. Yesterday, noted attractive Olympian and tattoo enthusiast Nathasha Kai put on quite the show, scoring three goals in the U.S. women's soccer team's 6-0 win over Canadia, who still try to dribble with hockey sticks.
Kai has few other enticing eccentricities:
What makes the Hawaiian forward crazy? Bearing in mind I had about 13 minutes to explore this topic, here's a short list: she stretched out her earlobes so she can wear 0 gauge ear plugs, she celebrated a goal during qualifying in Mexico by doing the Cha Cha in front of 27,000 Mexican fans, she refers to her occupation on her MySpace page as "RoCkStAr," she spent afternoons at Hawaii catching passes from new Redskins QB Colt Brennan (whom she calls "my best friend"), she just finished choreographing a dance routine to Michael Jackson's "Thriller" that she plans on teaching to her teammates to allow for pre-game performances, she wants to be a police officer when she quits the sport, and she once burned out on soccer and schoolwork and quit everything for a year to cook, wash dishes and wipe down tables at a college cafeteria, staying in shape by playing rugby with a men's team.
Hawtttt. So can we celebrate the remainder of Mother's Day by her having my babies?*
*Kidding. I don't want kids. She can just have sex with me.