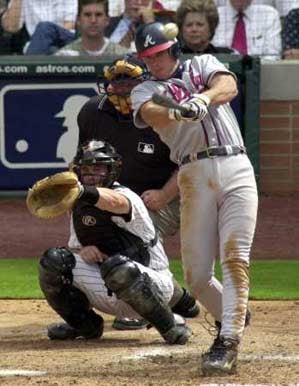 One of our favorite early-season baseball rituals is the old "on-pace-for" game. Unfortunately, it's slim pickings this year; no one's hitting a ton of homers, and there aren't many individuals completely tearing up the league. (It's almost as if they're missing some sort of value-added supplements they've had in the past. Theoretically.) The best we can probably do is hope someone's gonna hit .400.
That seems awfully unlikely too. The only current major league hitting .400 is Chipper Jones, and you can't like his odds to keep that going.
He'd like to get exactly 502 PAs, which is the minimum required to qualify for the batting title. If he did that, his odds would be 1 in 225. As those PAs go up, it gets very unlikely, very quickly. Weighting the 618 PA scenario as 40%, and the other three as 10%, 30%, and 20%, respectively, we come to odds of 1 in 546.

If he keeps this up (unlikely), some enterprising gambling site will probably offer odds on whether he'll hit .400. I'll be interested to see what they are, although I'm sure they'll be absolutely terrible. If they were listed now, I think they'd probably be along the lines of 50:1, maybe even 25:1.
To be fair, Chipper is already 3-for-3 today.
Baseball is entering a stage now when records will fall at a far slower rate than they used to. We find this a relief. The fewer records that are broken now, the fewer moralizing nostalgic, "there will NEVER BE ANOTHER MICKEY MANTLE" warblings we'll have to read. We're ready for a break from records and milestones for a while, thanks.
What Are The Odds? Chipper's Quest For .400 [Vegas Watch]