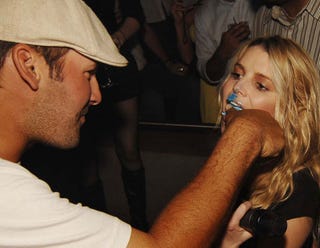 Although there have been rumors circulating for the last couple days via every gossip blog on the planet, there was still no real confirmation as to whether or not Cowboys' singing sensation Tony Romo and his personal ample-breasted quarterback Jessica Simpson had called it quits.
However, according to this latest report from Dallas Morning News' Allan Peppard, he begrudgingly reports that the dingbat ship has officially sailed off forever:
But after taking several oaths not to divulge my sources, two people close to Tony and Jess have told me that the glam couple is over, splitsville, kaput, put a fork in it.
Now, of course, until there is the official-official statement through Jessica's father expressing his own inappropriate amount of heartbreak and infinite sadness over this, there still may be hope for these two crazy kids. But if it is true, well, this column does become that much more relevant.
Sources confirm Tony Romo break-up [Dallas Morning News]