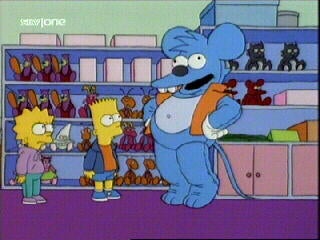 A dastardly sot went after Mr. Met at a game last Saturday, the New York Post reports. So bound and determined was he to inflict pain on the mascot, he wasn't going to let children, or pregnant women or rare butterflies get in his way. Is hurting mascots all that fun? Seems like somebody has seen the Itchy and Scratchyland episode of The Simpsons one too many times. And that somebody is me. "Nothing can possibli go wrong. Huh. That's the first thing that's ever gone wrong." LOLZ!
Christian Hansen of Gowanus, Brooklyn, was seen "harassing Mr. Met and pushing little children out of the way" at Shea Stadium, a law-enforcement source said.

When security officials told the soused sports nut to leave, he refused.

Then, as security guards escorted out the Mr. Met-basher, Hansen took a wild swing at an employee and spit in his face, law-enforcement sources said.

Cops arrested Hansen, 32, and charged him with criminal trespass, disorderly conduct and harassment. He was arraigned Sunday and released without bail.
So Mr. Met is nearly the victim of assault and there hasn't been a single hate crime against Steely McBeam? I just don't understand people sometimes.