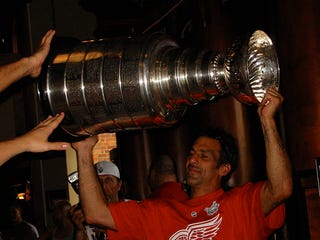 The Detroit Red Wings have been partying it up with their newly acquired Stanley Cup, taking it to defenseman Chris Chelios' downtown Detroit restaurant for a night of boozing. Play nice with her, fellas. Oop. Too late. You already damaged it. Busted Coverage has a short recap of some of the revelry that lead to the ding in the Cup.
Let the beer flow from the Stanley Cup.That was the case at Chris Chelios' bar, Cheli's, over the weekend as fans got in line to drink some cheap ass watered down beer from Lord Stanley. Chris Osgood stood on the bar, pouring beer into the Cup and Brett Lebda did the pouring [Come again? -Ed.] as fans got to take part in one of the coolest victory celebrations we've ever seen.

When is the last time you saw fans eating moonshine soaked cherries from the tips of the World Series trophy?
I don't know. When was the last time Kansas City won it?
The dent has been repaired, but will the Cup ever recover? She's all shaken up. These louts from Detroit said they were gonna show her a good time and she gets roughed up. It's wrongwrongwrong, but oddly...exciting?