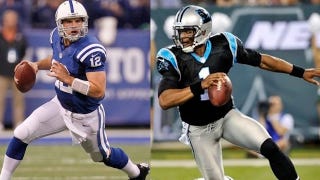 Every morning, the fine folks at Sports Radio Interviews sift through the a.m. drive-time chatter to bring you the best interviews with coaches, players, and personalities across the sports landscape. Today: Belichick must not have gotten the memo.
Bill Belichick joined WEEI in Boston with The Big Show to discuss New England's victory over Buffalo, the matchups with the Bills so far this year, adding Aqib Talib to the mix, ties in the NFL, if overtime rules should change and his impressions of Indianapolis quarterback Andrew Luck.
Reflecting on the 37-31 victory over Buffalo:
"Like a lot of games in the NFL, it comes down to one possession, one play … and this one did again. Fortunately we were able to make enough plays to come out on top. It's a competitive league, tough to win. But we'll take it and try to improve on it. It wasn't our best game, but it's good to be 3-0 in the division."
The Bills are 0-2 against you guys, but have piled up some big numbers. What is it that Buffalo does that has caused problems for you guys?
"They're a tough team to match up against. They have very good skill players - tight ends, receivers, backs. It's a tough group. They get three or four of them on the field at one time and it's a tough matchup."
How can you incorporate newly acquired Aqib Talib in your defense, or do you have to simplify things for him while he learns the system?
"I think when you bring a player in during the season, you do a couple things. First of all, you try to get a base of terminology for him. It's not the same as training camp, where you kind of put in everything you're going to be doing all year. … Then, once you have a base, you get to the game plan, and you work specifically on the game plan for the Colts. Certainly there are things in our defense that won't be part of the game plan against the Colts, so rather than wasting a lot of time coaching those … we focus more on the things that are going to be applicable this week."
How much do you think he'll play?
"I don't have any idea. He hasn't even practiced any yet for us. We'll see how it goes."
If one of your teams ever tied in a game, how would you feel about it?
"Actually, I think I was involved in a tie game in 1993 with the Giants against the Rams. We were 3-12-1 that year. … In my head-coaching career, no. But it is what it is. You play for 75 minutes and you don't have a winner, then you don't have a winner. … Long odds, but if it happens it happens. … I think it depends on the game. What about the Harvard-Yale game with coming off the press there, 'Harvard wins 28-28.' You're down by 16 points with a minute and a half to go in the game, then you tie it, you feel like you win."
Do you think the game should just keep going until there's a winner?
"I think you've probably got to take a look at it at some point. That's a lot of football. I think at some point, you've just got to take a look at it and say, 'OK, it's a tie.' … I've always liked playing that type of game, where you have another period in regulation. I like the concept of playing until the end of that period … but where you have the end of the game strategy and timeouts, like you have in basketball. … You don't play the first team to score or the first team to eight points or 10 points in basketball, you play that period out. I think there's something to be said for that."
How unique is Andrew Luck?
"He's been impressive. Certainly he's an outstanding athlete. He can run, he's got real good speed to get out of trouble and buy time in the pocket. He's made a lot of yards on converted third downs. … I think he sees the field well - has good vision, good poise. … I've certainly been impressed watching him."
Does he remind you of anyone at this stage of his career?
"I don't think there's a lot of difference between him, physically, and a guy like Cam Newton, just as far as being able to run, and be strong and fast and have a good arm. He seems to read coverages well. He's got a great receiver, obviously, in Reggie Wayne. … The Colts have done a great job. They've turned that program around."
This post, written by Eric Schmoldt, appears courtesy of Sports Radio Interviews. For the complete highlights of the interview, as well as audio, click here.
More from Sports Radio Interviews
• Pete Carroll is confused by Tim Tebow.
• Rex Ryan is sticking with Mark Sanchez.
• Steven Jackson still doesn't know how to feel about a tie.