DETROIT—I'm here to see my friend Tony Scheffler play. He's a tight end for the Lions and my last, best connection to a modern NFL that churns through players too quickly to catch. This is my third season out of the league; sometimes, it feels like no one I played with is still playing. But of the few who are, several of them are playing in this game—Tony and Jay Cutler, among them, the latter having been turned into the national punching bag by a lot of people who should know better.
My cabby on the way to my hotel had plenty to say about the state of the Lions. They're good, yes, they're good, he said, but they are missing several pieces. Chief among them: Jahvid Best is not doing his job. We need a better running back, a veteran, someone who knows. Like who, I ask? Like Adrian Peterson. We need to trade for Adrian Peterson, mid-season, you know, like they do in baseball. But what will you give up for him? Calvin? No, draft picks. We also need a left tackle. Welp, here we are. Keep the change. Thank you, my friend. Go Lions.
Four wins and zero losses for Detroit. Preseason was lossless too, along with the last four games of last season. Throw in tonight's win, and it's 13 straight. But standing on the rooftop of Cheli's two hours before kickoff, it's still just 12, and the beer is flowing like wine, and the rough Detroiters are carrying their enthusiasm proudly, unashamed of the simple fact that shit hasn't felt this good in, well, maybe ever. Thirty minutes before kickoff, everyone is filtering into the stadium from Adams Street, forming a jovial bottleneck that has everyone looking around flabbergasted. It's never been like this. Ever.
Kid Rock's guitarist goes all Jimi Hendrix on the national anthem, carrying it on his own, and he pulls it off, dammit, bending the right notes and loosening up the whole building, so that the Lions could slide along the tunnel unimpeded by the chafing doubt that has crippled the atmosphere at Ford Field over the years. All those old feelings of approaching doom are nowhere to be found tonight. Let's fucking play. Fan noise thoroughly dicks the Bears in the first quarter. Chicago's offensive linemen jump before the snap over and over again, and the crowd's sense of its own effect swells with every flinching lineman.
It's strange for me watching an NFL game from a suite. It feels different. Of course it feels different. But this difference is important, I'm thinking. It gets me closer to understanding something I'm trying to explain. As a writer who used to play the game, I often feel like I have a rare opportunity to connect two worlds that rarely touch, to help fans better understand the players, and vice versa. But do the two even want to meet? Should they? Can they? At halftime I stand on a balcony drinking whiskey, overlooking a swarm of thirsty men who are scurrying around in other men's jerseys, frantically trying to lock down a piss, some food, and a drink in 12 minutes, and then return to their seats before kickoff. I'm into my Jack Daniels and asking myself what it all means. Pfffft. What it all means. You know better than that, Nate. Go sit down and watch the game.
The third quarter has started, and Tony hasn't played much. He's only in on certain two-tight-end packages. But there he is in the huddle, and now in the slot on the right, now running a basic cross, settling in the zone. Matt Stafford throws his way. Tony catches the ball and gets cracked in the temple by Brian Urlacher. Urlacher is flagged for a helmet-to-helmet shot, and the fans around me rejoice, high-fiving the first-down catch and the extra yardage from the penalty. Tony takes a knee, disoriented, then floats to the sideline and out of sight. He took the hit well, so no one pays him much attention. My eyes return to the action. Next play, touchdown Brandon Pettigrew.
G/O Media may get a commission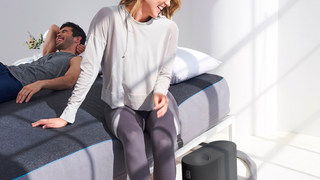 Eight Sleep Pod Cover
Tony and I were both tight ends together in Denver. He was a highly drafted rookie, and I was a wide receiver trying to act like a tight end. We both had a lot to learn in a short amount of time. Every NFL coach I ever heard talk always used some form of that line: "We've got a lot to do and a short amount of time to do it." That was always the feeling. Urgency. And Tony took the brunt of it. He has that rare combination of size and speed, and our offensive system in Denver, one that beautifully exploited the mismatches created by Shannon Sharpe, was always on the lookout for another Shannon. Another Shannon. Another Elway. Another Terrell Davis. These are the pressures that come with being a high draft pick in an organization with high expectations, and when you are the next Whoever, the pressure is relentless. I sat next to Tony in every meeting, and his mistakes were rewound, slo-mo'd, and broadcast through a bullhorn on a daily basis, with an obligatory "What the fuck!" appended to each one.
For someone who uses his brain and considers himself an actual human being, those "What the fuck!"s don't sit well, especially when they are coming from an old man with a mouth full of Copenhagen who was never good enough to be told he was a piece of shit in the first place. But Tony, now in his sixth season, is well past the usual abuse and has settled in for the ride, wherever it might take him. He understands the system, and he understands what he must do, and not do, to exist inside the system. That part is hard for me to reconcile right now. I am his guest for the game. He went to meetings and practices all week and prepared for this moment, a moment that me and millions of others are watching from a distance, and have no intimate knowledge of beyond what we see in front of us. But the backstory, that unseen week of meetings and practices, is the real story of the NFL, and it's rarely understood or even explained. A life in the NFL is a life in a snow globe. Nothing comes in and nothing goes out.
Next Lions drive, an 88-yard touchdown run by Jahvid Best. Somewhere my cabby shrugs. Where's Tony, I'm thinking. He's not on the sideline. He's not in the huddle. I'm full of free whiskey and nachos at this point. The crowd is celebrating. Everyone is laughing. The game ends. The happy crowd disperses. There are leftover hotdogs that we consider trying to throw onto the field—$50 to whoever can hit Suzy Kolber.
We head downstairs to the friends and family section to find Tony. But he's not there. He's in an ambulance on his way to Henry Ford Hospital. He had some tingling down the right side of his body, and he vomited several times. I ride there with his wife and mother-in-law, find him on a gurney, neck harnessed, flipping us off as we walk in. Sorry, he says. Sorry about this. Sorry, he keeps saying. I'm sorry, you guys.
There are families in the waiting room crying over the fate of loved ones. There are children running in circles, laughing, oblivious to the worrying but awake at 2 a.m., so maybe not so oblivious. The Lions' head trainer sits outside Tony's room, regarding me suspiciously as I ask about my friend. He hesitates to explain their protocol. Tony is their property, his look seems to say. He softens a little when I tell him I played with Tony in Denver. He asks me what I do now. I tell him I'm writing a book about what the NFL is really like, you know, what it's really like. This is what it's really like, isn't it? He stiffens up again.
Tony seems fine in the other room, but they won't be taking any chances. He has already had the CT scan to determine whether his brain is bleeding, and it isn't. Now he's waiting for the MRI machine to free up so they can see about the tingling. The trainer and I talk about Greek, the trainer in Denver. They know each other. We talk about anything, really, anything except Tony's brain.
When it's obvious that everyone's fine for the night, I say farewell to Tony and his family. On the way out, the trainer and I shake hands. Thanks for looking after my friend, I say. No problem, he says. But his expression seems to say, Lighten up, Nate. This is Detroit. We're 5-0. Five-and-fucking-oh. Enjoy it.
Nate Jackson played tight end for the Denver Broncos from 2003 to 2008. His writing has also appeared in Slate and The New York Times. He is working on a book about life in the NFL.
Top image by Jim Cooke.