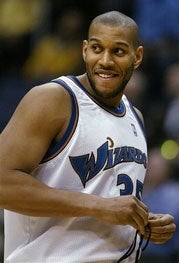 You know, we are no experts in the ever-turning wheels of justice ... but man, this Lonny Baxter thing got settled fast, didn't it?
Baxter was arrested for firing shots outside the White House just eight days ago, and yesterday ... he was sentenced to two months in jail. Man: That was, like, a week. We can't even get our dry cleaning back in a week. (Perhaps we should use Roger Clemens' guy.)
Baxter gave no explanation for the action but did apologize for the "careless, selfish, stupid act that I committed." Meanwhile, Montepaschi Siena, the Italian team Baxter is supposed to play for, says they'll need him back pretty soon after he gets out of jail; their season starts in October. Though as long as he's able to pretend like he has been shot every time he's fouled, he should be in game shape for Italy, no problem.
Baxter Sentenced To Two Months [Yahoo News]
One Must Be Careful Of Those Midnight Inconvenient Truth Screenings [Deadspin]