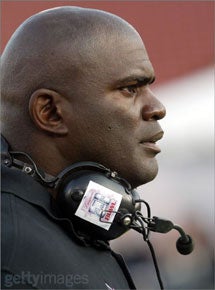 Can you imagine being in a corporate conference room with Lawrence Taylor? Wouldn't that have to make your week? If it happened on a Monday, we'd coast around our cubicle with a happy, dancing, spritely air ... Lawrence Taylor was here! In our conference room! Fucking shit up!
Well, if you ever wondered what it would be like ... it's pretty much exactly what you thought.
Agency head starts in with a brief credentials spiel, when, suddenly, LT interrupts with a pressing question.
LT: WHERE'RE THE BITCHES?
(a couple of nervous guffaws followed by awkward silence.)
LT: NO REALLY, YOU GOT ANY BITCHES WORKING HERE?
(flashes big LT smile)
I don't really remember how the rest of the meeting went.
God. We would just love for LT to hang out with us all day, like, just makin' toast and shit.
Celeb Dish Meeting [Copyranter]