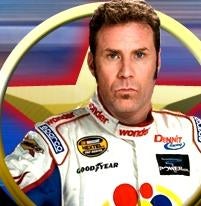 I was fortunate enough to see Talladega Nights yesterday, and I'm damn sure not going to wait until the DVD comes out to see it again. It did not only tickle my funnybone, it made sweet love to it. I'm just itching to quote the movie here, but I think I should probably wait until the DVD comes out to do that. I don't want to spoil too much for you.
I'm not a movie reviewer, so the best I can probably do for you is to tell you that if you liked Anchorman, The 40-Year-Old Virgin, and Wedding Crashers, Talladega Nights can walk proudly amongst any of them. And that's not something I'd say lightly.
Of course, not everyone feels that way. I was a little bit curious as to how NASCAR fans would receive the film. The people quoted here like it. This guy absolutely hated it. But then again, that guy thinks that John C. Reilly was in Anchorman, so, you might not want to take his word for it.
I didn't feel like the movie made fun of NASCAR much at all, which, to be quite honest with you, was a bit of a disappointment to me. Here's the review of the guy sitting in for Roger Ebert (I miss Roger Ebert), here's the Rotten Tomatoes link, and here's a review from a guy who doesn't like Will Ferrell or NASCAR, but loved the movie. And here's a post at Mister Irrelevant with a link to an interview with Sasha Cohen, where he describes some late night hijinx with Will Ferrell.
The Top Grossing Sports Movies Of All Time [Sportsocracy]
'We Had a Little Wrestle' [Mister Irrelevant]
Talladega Nights is dumb and dumber on the NASCAR circuit [Around Osceola]
Talladega Nights: The Ballad of Ricky Bobby [RogerEbert.com]
Talladega Nights: The Ballad of Ricky Bobby [Rotten Tomatoes]
'Talladega' an extremely funny movie [2theAdvocate]