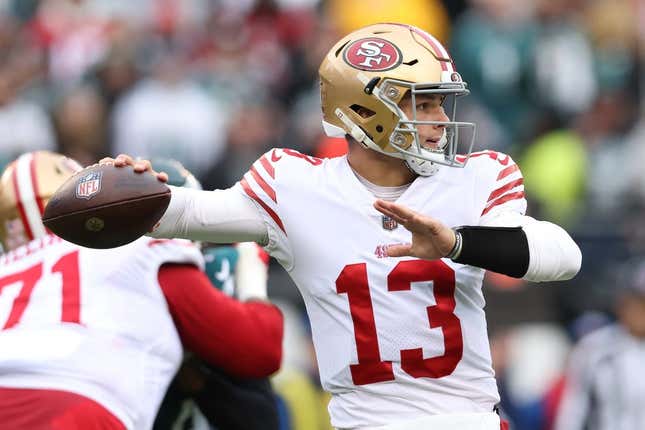 San Francisco 49ers quarterback Brock Purdy has received medical clearance and is ready to participate in training camp, general manager John Lynch said Tuesday
How running an NFL team is like running a restaurant | Chef Emeril Lagasse
Lynch added that a trip to the physically unable to perform list is not ahead for Purdy, who underwent ulnar collateral ligament surgery on his right (throwing) elbow on March 10. He was injured during the NFC Championship Game against the Philadelphia Eagles.
"Brock's cleared and ready to go," Lynch said. "He's been cleared. He's going to be without restrictions. Having said that, we're sticking to and adhering to a plan. He got after it the last couple days and we upped his pitch count. We believe in that plan.
"... The great news is that Brock worked his tail off and is ready to go."
By avoiding the PUP list, the 23-year-old Purdy presumably has the edge on Trey Lance and Sam Darnold to be the team's starting quarterback. Lance is returning from a severe right ankle injury that required multiple surgeries, and free agent Darnold is joining the QB room after stops with the New York Jets and Carolina Panthers.
Purdy, the final pick of the 2022 NFL Draft, was thrust into action as a rookie following season-ending injuries to Lance and Jimmy Garoppolo, and he was a revelation for the 49ers
He went 5-0 as a starter to finish the regular season, leading San Francisco to the NFC West title. He completed 67.1 percent of his passes for 1,374 yards, with 13 touchdowns and four interceptions.
In the postseason, Purdy was 2-1 with three touchdowns, no interceptions and 569 yards.
--Field Level Media