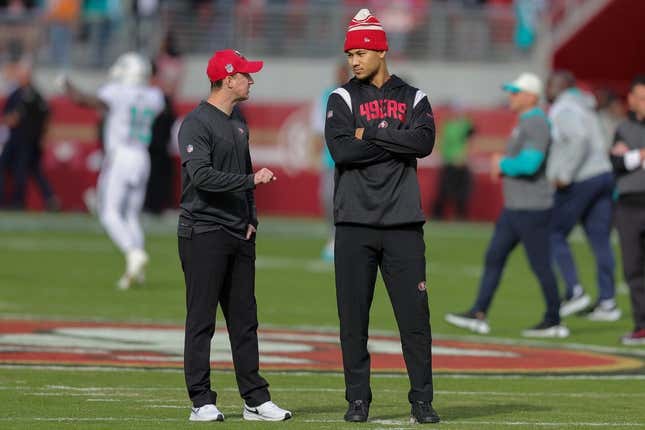 49ers general manager John Lynch expects quarterback Trey Lance to remain with the team despite rampant speculation he could be traded this week
Bass' ERA stinks, but not compared to who he is off the mound | Worst of the Week Countdown
With second-year quarterback Brock Purdy the frontrunner to start for San Francisco, reports increased this month that Lance, recovering from season-ending surgery in 2022, could be on the block.
"A lot of smoke, really," Lynch said of the speculation Lance would be traded. "I expect Trey to be here."
Lynch did afford trade talks occurred with teams calling to find out if the 49ers would be willing to part with Lance to clear the decks for Purdy, who is recovering from his own season-ending injury
But talks "haven't been substantive," Lynch said, and there remains some doubt regarding the timeframe for Purdy to return to full health. He had elbow surgery and could be limited even if cleared to throw daily at training camp starting in July.
Lance was the starter to open the 2022 season. He needed two surgeries on his right ankle in a span of three months -- one in late December to remove surgically implanted hardware inhibiting his movement -- and has played eight football games in the past three years. That includes going 2-2 as a starter for the 49ers while completing 54.9 percent of his career NFL passes, with five touchdowns and three interceptions
"We are focused on his ability to compete and play an integral role on this team," Lynch said of Lance.
--Field Level Media