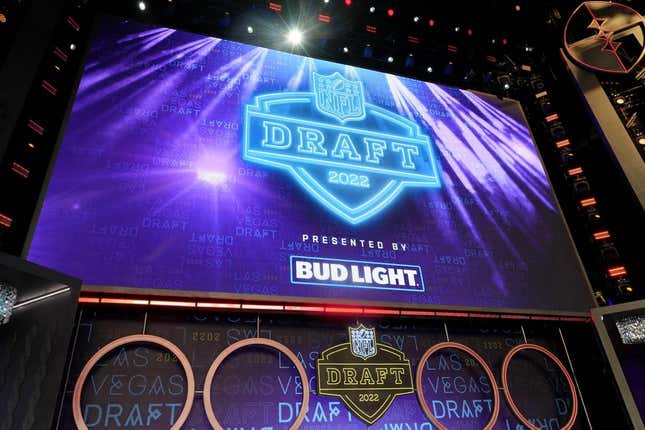 The NFL awarded 37 compensatory draft picks on Thursday for next month's annual draft, with the San Francisco 49ers gaining a league-high seven selections.
How running an NFL team is like running a restaurant | Chef Emeril Lagasse
The Niners received more compensatory picks than any other team one year after they tied with their NFC West rivals, the Los Angeles Rams, for the most additional selections given ahead of the 2022 draft with five.
San Francisco was handed four picks based on the league's compensatory free agent formula and another three based on several minority coaching and front-office members who have earned jobs with other teams.
The NFL maintains a confidential "net-loss" formula -- which factors in salary, playing time and postseason honors -- to decide how to dole out the compensatory picks, but it's partly based on teams that lose certain unrestricted free agents to another team receive a compensatory pick the following year.
Additional picks are awarded to teams that have a minority coach or executive hired by a different club for the same role or a higher-ranking one. The Cleveland Browns and Kansas City Chiefs also added one pick each based on minorities who advanced to other organizations.
Exactly half of the league's 32 franchises added at least one selection for the draft that runs from April 27-29 in Kansas City. The Arizona Cardinals received the highest compensatory selection, the No. 96 overall pick in the third round.
After the 49ers drafted quarterback Brock Purdy with the final pick in last year's draft at 262nd overall, the Houston Texans currently hold the final pick in the draft at No. 259 -- with the player chosen earning the title of "Mr. Irrelevant."
List of 2022 NFL Draft compensatory picks:
Round 3:
No. 96 Arizona Cardinals
No. 97 Washington Commanders
No. 98 Cleveland Browns
No. 99 San Francisco 49ers
No. 100 Kansas City Chiefs
No. 101 San Francisco 49ers
No. 102 San Francisco 49ers
Round 4
No. 135 New England Patriots
Round 5
No. 167 Los Angeles Rams
No. 168 Arizona Cardinals
No. 169 Dallas Cowboys
No. 170 Green Bay Packers
No. 171 Los Angeles Rams
No. 172 New York Giants
No. 173 San Francisco 49ers
No. 174 Las Vegas Raiders
No. 175 Tampa Bay Buccaneers
No. 176 Dallas Cowboys
No. 177 Los Angeles Rams
Round 6
No. 210 New England Patriots
No. 211 Minnesota Vikings
No. 212 Dallas Cowboys
No. 213 Arizona Cardinals
No. 214 Las Vegas Raiders
No. 215 Washington Commanders
No. 216 San Francisco 49ers
No. 217 Kansas City Chiefs
Round 7
No. 250 Kansas City Chiefs
No. 251 Los Angeles Rams
No. 252 Tampa Bay Buccaneers
No. 253 San Francisco 49ers
No. 254 New York Giants
No. 255 San Francisco 49ers
No. 256 Green Bay Packers
No. 257 New Orleans Saints
No. 258 Chicago Bears
No. 259 Houston Texans
--Field Level Media