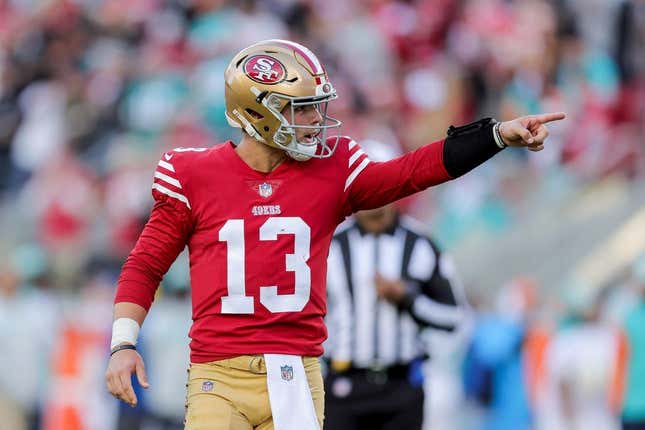 San Francisco 49ers quarterback Brock Purdy will begin a six-month recovery period following elbow surgery on Friday.
The procedure to repair the torn ulnar collateral ligament in his right arm was performed by Dr. Keith Meister and included the insertion of an internal brace, according to multiple reports.
"The expectation is Purdy will begin throwing in three months and build up his strength from there," NFL Network reported.
The six-month rehabilitation timeline lines up with the start of the 2023 NFL regular season on Sept. 7.
Purdy apparently avoided a more complex elbow reconstruction that could have increased his recovery period by seven to nine months.
Purdy, 23, made a stunning rise from being the last pick in the 2022 NFL Draft to leading the 49ers into the NFC Championship Game.
After quarterbacks Trey Lance and Jimmy Garoppolo were injured in the regular season, Purdy took over and led the team to wins in each of the final five games. Purdy and the 49ers then defeated the Seattle Seahawks and the Dallas Cowboys in the playoffs before falling to the Philadelphia Eagles in the NFC title game when the elbow injury occurred.
After fourth-stringer Josh Johnson went down with a concussion against Philadelphia, Purdy returned to action but was unable to throw the ball more than a few yards on pass routes.
In the regular season, Purdy completed 67.1 percent of his passes for 1,374 yards with 13 scoring passes and four interceptions. In the playoffs, he had a 65.1 percent completion rate while throwing for 569 yards and three TDs with no interceptions.
--Field Level Media