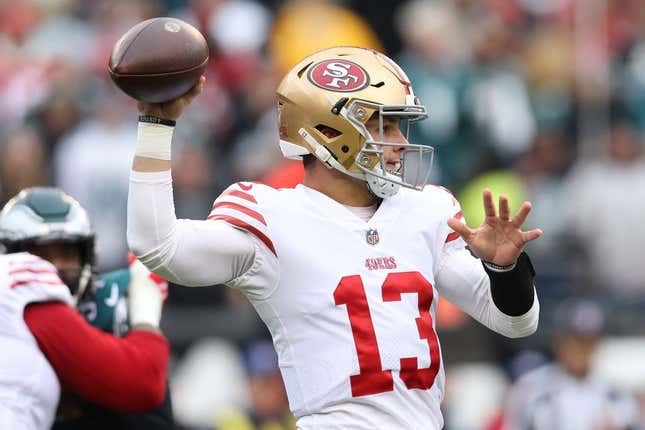 Quarterback Brock Purdy expects to be throwing a football by June and could be on schedule to practice with few limitations when the San Francisco 49ers open training camp in late July
Bass' ERA stinks, but not compared to who he is off the mound | Worst of the Week Countdown
Purdy, 23, had surgery to repair the torn ulnar collateral ligament in his right arm earlier this month, but 49ers general manager John Lynch said the second-year quarterback would be in line to start if the season began now
But the trouble with assessing Purdy in April is the only real measure of his progress comes when throwing begins.
"The protocol is you start throwing at three months, but it all depends on how your therapy and your range of motion and everything goes up until that point," Purdy told the San Jose Mercury-News. "There are definitely some boxes I have to check off first before I get to that point, but that's the plan as of now."
Purdy made a stunning rise from being the last pick in the 2022 NFL Draft to leading the 49ers into the NFC Championship Game
He said the size of the elbow brace he's wearing during the first part of his post-op rehab makes it appears as if he has a "bionic arm."
"When you first get in it after surgery, you're in it at 90 degrees. From there, you can start opening it up to help with your range of motion," Purdy said. "It is just to keep your arm safe when you're out walking around or doing therapy. But at night, I can take it off and just do some normal motions with just looking at my arm."
When he gets back on the field, he'll have company in the form of Trey Lance and Sam Darnold, a pair of former No. 3 overall picks. Lance, the third pick in 2021, began last season as San Francisco's starter but sustained a season-ending ankle injury in Week 2.
Darnold signed as an unrestricted free agent after two seasons with the Carolina Panthers, who acquired him from the New York Jets. The Jets drafted Darnold with the third pick in the 2018 draft.
Purdy, selected with the 262nd and final pick in the 2022 draft, emerged as the No. 1 quarterback for the 49ers after Lance and Jimmy Garoppolo went down with injuries. He was undefeated in seven games before losing his eighth, the NFC Championship Game, after injuring his elbow in the first quarter against the Philadelphia Eagles
--Field Level Media