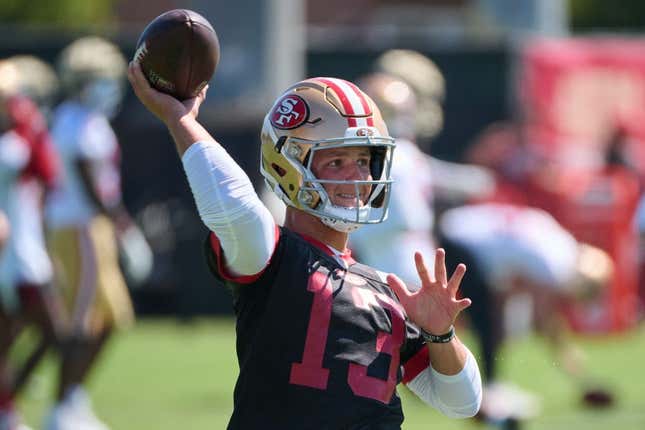 49ers quarterback Brock Purdy progressed in his recovery from offseason elbow surgery to eliminate mandated off days between throwing sessions.
How running an NFL team is like running a restaurant | Chef Emeril Lagasse
Purdy began training camp on a strict pitch count and said he's feeling no ill effects of ulnar collateral ligament surgery required following an injured right elbow in the NFC Championship game.
"In terms of my arm and everything, yeah, my arm feels great," Purdy said. "Just still building back-to-back days and trying to gain all the strength that I can back from the rehab process of things and I feel really confident."
Head coach Kyle Shanahan also moved to clear up any doubt that Purdy would begin the season atop the San Francisco depth chart.
"He would have to melt in practice to lose it," Shanahan told Sports Illustrated. "And Brock's too good of a player to melt in practice — and so are the other guys."
Purdy is the pick to lead the 49ers when they open the regular season on Sept. 10 at Pittsburgh. Backup Trey Lance is returning from a severe right ankle injury that required multiple surgeries. Sam Darnold is new to the Bay Area after stops with the New York Jets and Carolina Panthers.
Purdy, 23, the last player selected in the 2022 NFL Draft, went 5-0 as a rookie starter during the regular season and passed for 1,374 yards with 13 touchdowns and four interceptions.
—Field Level Media