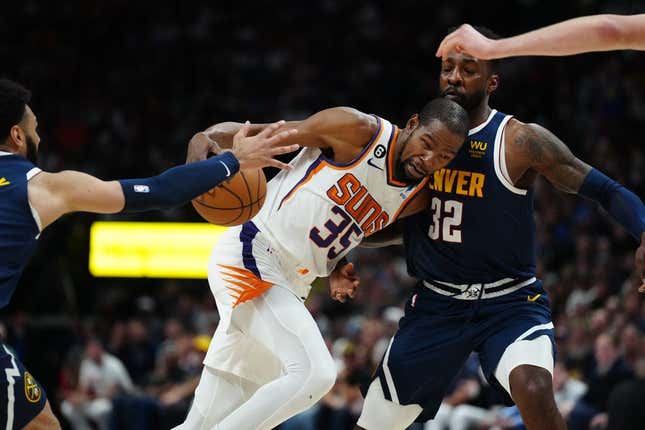 Nikola Jokic scored 39 points and grabbed 16 rebounds as the host Denver Nuggets beat the Phoenix Suns 97-87 on Monday night in take a 2-0 lead in the Western Conference semifinals
Aaron Gordon added 16 points, Kentavious Caldwell-Pope had 14 points and made all four of his 3-point attempts for the Nuggets, who held Phoenix to 14 points in the fourth quarter. Jamal Murray scored 10 points and dished out eight assists
Devin Booker scored 35 points, Kevin Durant had 24 points and Deandre Ayton added 14 for the Suns, who lost Chris Paul to left groin tightness in the third quarter. Paul produced eight points and six assists in 25 minutes
Game 3 in the best-of-seven series is scheduled for Friday in Phoenix.
The Suns led by three points entering the fourth quarter, but they missed their first nine shots of the final period. Denver grabbed a 78-73 lead on two 3-pointers from Caldwell-Pope and a short jumper by Murray
Durant broke the drought with a fadeaway and driving layup to make it a one-point game with 7:36 left.
The lead stayed within a five-point margin until under the three-minute mark, with both teams having chances to make a run. Jokic put the Nuggets ahead 86-81 when Durant was called for goaltending
Bruce Brown blocked a Durant shot, and after a timeout, Caldwell-Pope hit another 3-pointer to give Denver an 89-81 lead with 2:43 to go. Cameron Payne missed at the other end, and Murray made a jumper to give the Nuggets a 10-point advantage, and the hosts closed it out
After a high-scoring Game 1 on Saturday night (a 125-107 Nuggets win), the defenses were in control in the first half of Game 2. Both teams struggled to make shots, but Phoenix used nine offensive rebounds to outscored Denver 8-0 in second-chance points and lead 42-40 at halftime
The Suns started to surge in the third quarter. The game was tied at 48 before Durant hit a pair of free throws, Booker and Paul made pull-up jumpers, Durant drained a 3-pointer and Paul hit an 18-footer to give Phoenix a 59-51 lead
The Nuggets got within 59-56 on a three-point play from Michael Porter Jr., but the Suns stretched the lead to 68-61 on a Booker jump shot. Jokic scored Denver's last nine points of the period to get the Nuggets within 73-70 heading into the fourth
--Field Level Media