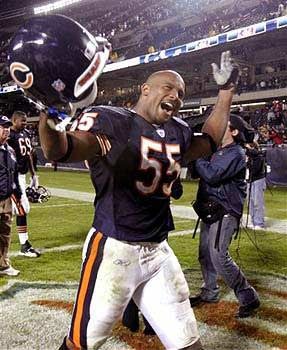 You say you like the Athletes Making Babies site? Well, then you're gonna love the tale of the smooth operator that is Bears linebacker Lance Briggs.
The Chicago Sun-Times, getting a real kick out of itself with its "Baby mamas bear down on Briggs" headline, details just how much Briggs paternity madness is going on right now.
n court Wednesday, Briggs' ex-girlfriend Brittini Tribbett, 21, again pleaded for Briggs to provide adequate emotional and financial support for their baby girl, while another pregnant woman stood by, listening to talk of how she's set to deliver a Briggs baby.



Briggs, 27, wasn't in court. He is living in Arizona with yet another woman who recently gave birth to another daughter of Briggs, those involved in the case alleged.
Yep, Briggs is only 27; he has so much more time with which to plant seeds. Supposedly Briggs' lawyer is close to reaching a settlement. Sweet. Time to get back to work.
Baby Mamas Bear Down On Briggs [Chicago Sun-Times]