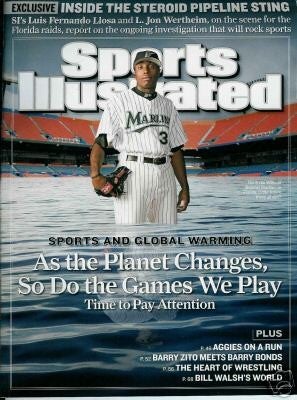 Enjoy it while you can, Marlins fans. Your team may have won two World Series titles and is currently in first place in the NL Central East, but things have a way of evening out (Dontrelle Willis calls it karma). According to a study cited in the Orlando Sentinel, the polar ice caps are melting at such an alarming rate that South Florida may soon be underwater. And that tends to put a crimp in concession sales.
Perhaps you remember this somewhat controversial Sports Illustrated cover from March of last year. The story examined how the effects of global warming may be causing dramatic weather swings, thus changing winter sports, and resulting in more baseball rainouts. But even SI didn't know how prescient the cover really was.
The same day the federal government added the polar bear to the endangered species list because of global warming, South Florida water managers agreed to take a yearlong look at how melting ice could raise sea levels that could claim the southern part of the state.

Coincidently, the district's governing board on Wednesday met in Sebring, northwest of Lake Okeechobee, which Board Chairman Eric Buermann pointed out was once Florida's southern tip. "It may be again," Buermann said.
The SI article was controversial because, predictably, global warming naysayers did not want politics mixed with their NFL dogfighting news. Fine. But when the Marlins' fan base is reduced to these three people, don't come crying to me.
Study: Will Rising Ocean Submerge Part Of South Florida? [Orlando Sentinel]
Environmental Journalism At The Crossroads [Stanford News Service]