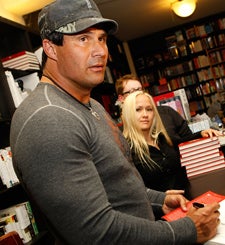 Per Radar, it appears Jose Canseco is about to embark on his latest money-making idea'r and this time it involves two of his favorite pastimes: 1) Mixed martial arts, and 2) Shameless hucksterism.
Here's what will supposedly take place at the Atlantic City Surf's minor league baseball stadium:
Canseco is seeking three people over 200 pounds to fight him in Atlantic City's Surf Stadium on July 12. The three dudes will get $5,000 each for going three rounds (two minutes each). Promoters reportedly prefer athletic types or celebrities to hop into the ring, but any mook'll do.
According to Hoffman Wolff, media relations mouthpiece of the Atlantic City Surf, there have been discussions with Jose Canseco's people to make this happen, but the date is not official yet. Wolff says they would most likely hold the event on a Surf off day, but the specifics — who Jose will fight, time, cost — are still being hashed out. Most likely, Jose's people will probably try to shake every single cent from concessions and ticket sales, so this "event" still might never happen.
If it does, I wonder if Pat Jordan counts as enough of a celebrity? That would be quite a battle.
Jose Canseco wants to whoop you [Radar]