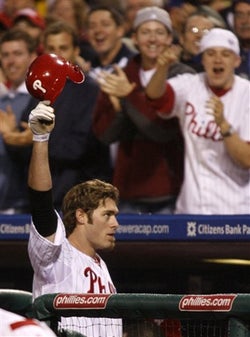 There's been a lot of hand wringing in Philadelphia as of late over Ryan Howard's lack of offensive production (not to mention his arrest), but Jayson Werth is picking up the slack. Werth victimized Toronto's David Purcey for two of his three home runs and seven of his eight RBI with a grand slam and a three run shot, all in the first three innings. Werth has now totaled nine homers on the season (matching the non-disgraced Howard) after entering the season as a platoon player. The Phillies celebrated the opening of Interleague play with a 10-3 win while Purcey packed his bags for the long trip back to the minors..
• Only Two? Pussy. Texas' slugger Josh Hamilton is also enjoying this Interleague business. The outfielder with crystal clear urine went 5-5 but bored everybody to death by only hitting two home runs. The rest of the Rangers participated as well and the team managed to rack up 16 runs against their interstate "rivals" from Houston.
• Really? Joe Saunders is the American League leader in wins with seven thanks to last night's handling of the cross-town Dodgers. The Angels picked up the 4-2 win behind their newfound ace, and Ervin Santana will look to match his teammate later today.
•Perfection is fleeting. Joakim Soria finally gave up his first run(s) of the season, thus ruining the post I had in mind for this afternoon, but he still got the save. The man I had planned on calling the most dominant pitcher in baseball saw his ERA inflate to an embarrassing 1.04 in KC's 7-6 win over the Marlins.
•Oh darn. The Yankees and Mets were rained out.