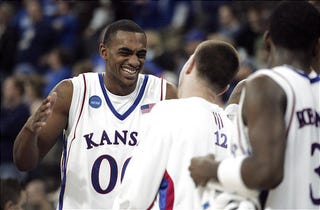 Darrell Arthur probably shouldn't have been eligible to play for Kansas, but the school's Athletic Director doesn't seem to be too concerned with any ramifications. Jim Marchiony told the Witchita Eagle that he "can't see this affecting Kansas or Darrell Arthur," because the player's high school transcripts were cleared by the NCAA. It's true, but I don't see how that will prevent an investigation. The question isn't whether or not Kansas is guilty of some violation, it's simply a matter of whether or not Arthur was eligible play.
If Arthur's grades were changed while he was leading South Oak Cliff High School to consecutive titles in the Texas 4A state tournament then he should never have been eligible to compete for the Jayhawks. Because his transcript was approved by the NCAA's clearinghouse Kansas shouldn't face any penalties, but their title could be revoked regardless. It might not be fair to Kansas, but in the past when a player has been deemed ineligible after the fact their teams have had to take some banners down from the rafters.
It's worth noting WFAA, the Dallas television station that first reported on the grade changing, has a pretty good track record when it comes to stories of this nature. In 2006 they broke a similar story involving grade changing at South Oak Cliff back in 2006 and it was also a report on their station that ultimately led to SMU's "death sentence" penalty.