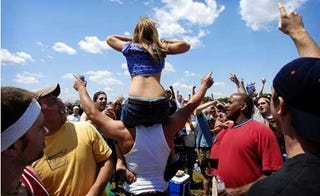 It's time to let these gargantuan mammals race on their precariously thin legs and I'm pumped! Big Brown is your overwhelming favorite heading in to post time and the only real question is whether he can keep the hope of a Triple Crown alive. Continue after the jump for updates on all the goings on and follow along in the comments. Hopefully nobody, man nor beast, has to die today.
Well that was quick! Big Brown wins the 133rd Preakness Stakes going away, and everyone is alive and well.
Speaking of alive and well, we might have our first Triple Crown winner since Affirmed some 30 years ago. Hopefully this will lead to a whole lot of horse poetry for all of us to mock from our high... uh, horses.
Affirmed!