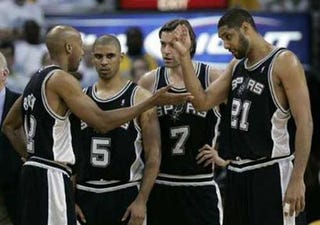 We had kind of forgotten how inspired some of those old Lakers-Spurs series back in the day until this Pounding The Rock fanpost reminded us. They really had some brutal postseason bashes.
To remind:
1986, 1988: Lakers sweep Spurs 3-0 in the first round. OK, those don't count, even thought 1988 Spurs team did have Jeff Lamp. We love lamp.
1995: Spurs beat Lakers 4-2 in the conference seminfinals before losing to Houston in the conference finals. Interesting note: That Spurs team had Dennis Rodman AND Moses Malone.
1999: Spurs swept the Lakers 4-0 in the conference semis again. This series featured the last game as the Los Angeles Forum. Check out this clip, featuring Bob Costas as lead play-by-play guy.
2001: Another sweep, with the Shaq/Kobe/PhilJax Lakers blasting past the Spurs. The leading scorer in the clinching game? Derek Fisher. Check out NBA.com's archaic page about the 2001 playoffs.
2002: The Spurs grab one more game, but that's it, losing 4-1 to the Lakers in the conference semis. Remember when Rick Fox was good?
2003: Revenge! The Spurs take out a feuding Shaq and Kobe en route to their second title.
2004: The Lakers come right back — in what was a thrilling postseason all around — with that Kobe/Shaq/Karl Malone/Gary Payton/Little Mexican Girls team and beat the Spurs in six. The Derek Fisher shot in Game 5 was the most memorable game of this series. (The Pistons officially ended the Lakers dynasty in the Finals.)
And that was it; it has taken the Lakers that long to recover and rebuild once Shaq left. The Spurs, however, have won two titles since then and never really went anywhere. And here we are, with Game 1 tomorrow night.
Before we forget them, though, let's salute Chris Paul and the Artists Formerly Known As NOOCH.