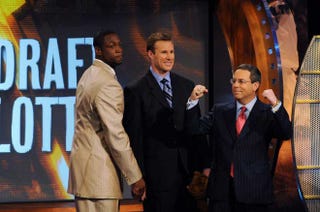 The tiny man you see here — and "tiny," of course, is relative to two men standing next to him; in reality, he's probably 6-foot-9 — is Steve Schanwald, executive VP of the Chicago Bulls. He was a very happy tiny man last night; it's a good thing Chicago isn't a huge city with a potentially rabid fanbase and a considerably vaunted history in the NBA, or someone might have said that thar thing was rigged.
It has been a whirlwind 365 days for the Bulls, who went from Expected NBA Title Contender to Team That's Firing Its Coach And Missing The Playoffs to Team That's Using Its Supposed Trade Chips Not For Kobe Bryant But Drew Gooden to ... winning the lottery. The choices are local guy Derrick Rose and muscular Michael Beasley; Blog-A-Bull is in favor of Rose.
The Heat will take whoever is left over, and then the Timberwolves, despite their special teddy bear, didn't end up with the top pick. Honestly, we thought Fred Hoiberg was gonna strangle that bear.
We're gonna talk about the Knicks' sixth pick a little later. But Chad Ford already has us very tickled.