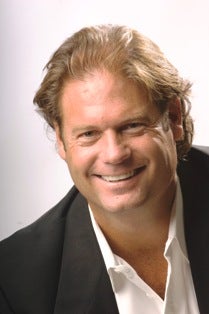 Former Phillies/Marlins catcher and semi-devout mystic Darren Daulton is heading a baseball camp at Stockton College in N.J. this August and is currently making the rounds in the Delaware Valley to promote it. That's fine — Daulton, for all of his flakiness and perceived wackiness still knows more about baseball than anyone else who subscribes to the Mayan calendar and has had out-of-body experiences on the basepaths.
But Dutch has recently taken on new individuals to handle his post-baseball career and promotion for this particular camp — and they are doing everything in their power to keep the interviews focused on "Darren Daulton, former major league catcher" than "Darren Daulton,lizard conversationalist."
Daulton's inexperienced PR team, who also hold a monetary stake in the the camp, is trying to keep Darren's promotional interviews as baseball-centric as possible. According to some media outlets who've already dealt with them, there is a legitimate "Can't Talk To Darren List" of people who, regardless of large an audience they bring, won't be considered safe interviews because, well, they'd most likely ask about Darren's unique viewpoints on all things otherwordly and his sketchy personal life, considering that's kept him in the news in the last two years. (Ed. Note: He's being modest, but Mr. Daulerio is on this list.)
But his new PR team is smart enough to know that that side of Darren Daulton is not going to be the one that wheedles Little League parents into plopping down $700 for an week-long overnight camp.
So, like Tom Cruise, Daulton's new people are in search for their client's own personal Oprah; an the interviewer who won't prejudge him for his beliefs and won't ask him to jump off the couch again.
Darren Daulton [On The DL]
Darren Daulton Has Gone Plum Damn Crazy [Deadspin]
Darren Daulton Joins The Fifth Dimension [SI]