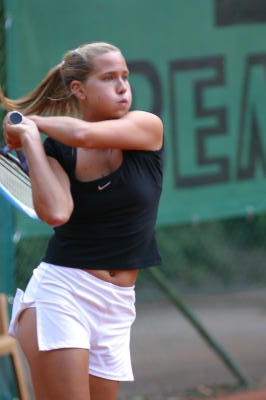 Most of us who don't follow women's tennis on a regular basis had probably not heard of Ashley Harkleroad up until last weekend, when it came out that the 23-year-old lassie will one-up the provocative poses of other ladies in her sport by shedding her Fancy Pants for the August issue of Playboy.
Harkleroad, currently ranked no. 61 in the world, told the Times UK that the shoot was hard-ass work. "I stay in shape and try to stay fit. I'm just trying to represent a female athlete and her body. That can be sexy, too. It's no big deal," she told the paper.
Female athletes and their bodies should be thrilled to have such a courageous, nubile representative willing to get out there and show the world that those short tennis skirts and tight-fitting tank tops aren't in fact hiding hog-sized hips and a third breast.
Ashley Harkleroad To Pose For Playboy [Times UK]

Athletes And The Dicey Posing For Playboy [The Big Lead]