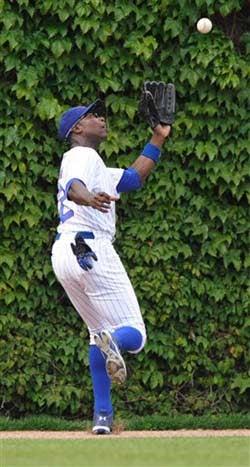 You know the Cubs are competitors this year because their fans are getting ornery. And the target of their orneriness has been Alfonso Soriano, who plays left field as if he's crossing ice with eels as slippers. But the Cubs organization has had just about enough of fans' darned negativity.
Soriano has been taking so much heat, and is apparently so sensitive, that yesterday the Cubs informed fans in the left field bleachers that booing Soriano would get them kicked out of Wrigley.
A Cubs official offered protection for Soriano, instructing left-field bleacherites before Monday's game that any profane or inappropriate comments made toward Soriano would result in their immediate ejection.



"If someone was overstepping their bounds, we would quickly correct the problem," a Cubs spokesperson said, adding there were no problems.
We encourage this Stuart Scott-ization of fans' interactions with their teams. We are, after all, paying all of their salaries; the least we can do is try to make sure they always feel good about themselves.
OK, Al: You're good enough, you're smart enough, and doggone it, you can play left field. Really.
Alfonso Soriano Defended By Manager, Teammates [Chicago Tribune]