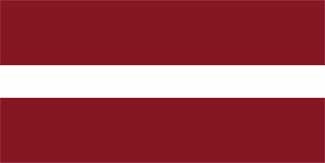 The visually stunning piece of pop art you see here is the national flag of Latvia. Latvia's national motto is "For Fatherland And Freedom." They joined NATO a few years ago. And they are not — not — Lithuania.
This is news to the Czech Republic soccer team, which, before a game against Lithuania earlier this week, proudly displayed the Latvian flag and roster. The Lithuanians were not amused.
The federation's spokesman Vaclav Tichy took responsibility for the mistakes and resigned from his post. His deputy was fired and another federation official fined.
We think this is the sports equivalent of the rock star who yells "Hello, Cleveland!" when he's in Boise. Except, you know, with the danger of an international incident.
Czechs Give Latvia The Royal Treatment [The Beautiful Game]