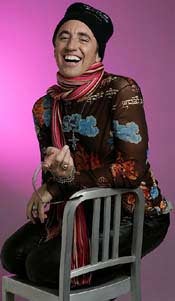 Rick Reilly might not like bloggers, but if you have a problem with that, you better get over it. Because his contract with ESPN begins next week.
Reilly is reported to be making $3.4 million a year over the next five years, so rest assured, ESPN's gonna make sure he earns every penny of that contract. That is to say: He's about to be everywhere. The guess here is that he does a lot of Preakness Belmont stuff to start off, so expect lots of obvious puns about cracked hooves.
A logical question: What does this mean for Bill Simmons? It would seem difficult for the ESPN.com world to have enough space for the both of them. Of course, Simmons is making it easier on ESPN by not writing so much of late, in the midst of his operation shutdown. We understand Simmons' frustrations but think it might be counterproductive. We remember during the Red Sox 2004 postseason run, his columns were essential the next morning. We could be having the same experience now with his Celtics, and Simmons could be proving just how indispensable he is to ESPN.com right as Reilly comes in. But it would seem like Reilly's got a straight shot now.
Anyway: Rick Reilly is coming. Very soon. You've all been warned.