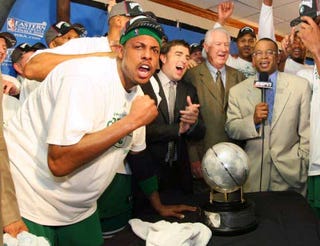 The NBA Closer is written by Matt McHale, who has a funny feeling the Spurs aren't going to repeat this year. When he's not stating the glaringly obvious, he can be found mocking someone or something at Basketbawful. Enjoy!
Here we go again. Bill Russell. Elgin Baylor. Bob Cousy. Jerry West. John Havlicek. Wilt Chamberlain. Sam Jones. Gail Goodrich. Larry Bird. Magic Johnson. Kevin McHale. Kareem Abdul-Jabbar. Robert Parish. James Worthy. Dennis Johnson. Greg Kite. Swen Nater. Not a bad list of names, eh? (Okay. Maybe the last two.) Well, now you can add Kevin Garnett, Kobe Bryant, Paul Pierce, Pau Gasol, Ray Allen and Lamar Odom to that list. Because in case you haven't heard, it's going to be the Los Angles Lakers versus the Boston Celtics in the NBA Finals. [Cue melodramatic music...NOW!]
And let's be totally honest: Who would've thunk it? The Celtics won 24 games last season and Mamba said he wanted to play on Pluto last May. And even as recently as the final quarter of last night's game, this outcome looked dubious. I mean, the Pistons had a 70-60 lead early in the fourth. They were playing at home against a team that's been gak-a-riffic on the road in the postseason. And they were 5-0 in bounce-back games in these playoffs. Boston avoiding a Game 7 looked about as likely as a sequel to Daredevil (i.e., the movie where somebody thought it would be a good idea to dress Ben Affleck up in skin-tight red leather and have him use his superior acting skills to portray a blind dude with super powers).
But the Celtics responded with a 19-4 run and the Pistons were suddenly flat broke. Even a cluster of missed free throws by Garnett and Pierce didn't matter, because David Stern's Amazing Magneto Ray (TM) was knocking Detroit's three-point attempts way off course...and that was that. Celtics 89, Pistons 81.
And in case you were wondering, the answer is yes: Stern and Danny Ainge had a simultaneous orgasm. But the Big Ticket? He's trying to be all cool about it. "It's kind of surreal. Probably hasn't even hit me yet because we haven't slept in about four days, going on five days now. Going to the Finals, I'm just hoping to get some sleep. We're emotionally drained." Not Truth, though. That dude just about had a freaking heart attack.
Speaking of Pierce, he led the Celtics with 27 points (on 8-for-12 shooting) and 8 rebounds. Allen got hot early and finished with 17 points and 6 rebounds. KG added 16, 6 and 4. And let's not forget the Celtics roleplayers, who may not have had gaudy stats but nonetheless made huge contributions. Sam Cassell was only 1-for-5, but that 1 was big. Kendrick Perkins had a huge block late. And James Posey made the defensive play of the night, stealing the ball from an unsuspecting Tayshaun Prince with just over two minutes left and Boston clinging to a four-point lead.
Chauncey Billups scored a playoff-high 29 points for the Pistons, and Rip Hamilton shook off his fake elbow injury to score 21, but those dudes were on their own offensively. Prince (10 points, 3-for-12), Rasheed Wallace (4 points, 2-for-12) and the bench (11 points, 4-for-10) didn't have their back. And now this team's run — which has included six Eastern Conference Finals appearances, two berths in the NBA Finals, and one championship — might be over. Flip Saunders? He might not be back. 'Sheed? He could be gone. Antonio McDyess? He might be bronzed and put on display at the Smithsonian. Times they are a changin'...
But the more things change, the more they stay the same. The same as they were in the 60s and 80s. It's Boston and L.A. for all the marbles. The NBA Finals start on Thursday night in Beantown.