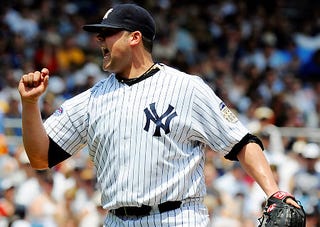 Until Hank Steinbrenner can get Dayan Viciedo signed, five innings of Joba Chamberlain are going to have to do. Chamberlain, who was lambasted by critics and audiences alike in his first starting role last week, came back with a slightly stronger effort on Sunday to lead the Yankees over the Royals 6-3, although he had a no-decision. Yeah, those Royals, who have lost 17 of 20. So is all the enthusiasm shown in the photo here really warranted?
Chamberlain, who threw 62 pitches in a one-inning debacle against the Blue Jays last week, was limited to 78 pitches on Sunday. Jason Giambi had a tiebreaking homer in the sixth and Bobby Abreu had an upper-deck homer and three RBI.
• Penny Is The New Zito. Barry Zito will no longer be the butt of my jokes. Zito got his second win of the season as the Giants beat the Nationals 6-3. Meanwhile, Brad Penny ran his winless streak to seven starts as the Cubs beat the Dodgers 3-1. Jason Marquis took a two-hitter into the seventh inning and Mark DeRosa was 3-for-4 with a homer for Chicago.
• That's A Three-Game Sweep, For Those Keeping Score At Home . Ryan Howard was 3-for-5 with four RBI and the first three-double game of his career as the Phillies beat the schizophrenic Braves 6-3. Philadelphia has won four straight and 12 of 14.
• Those Lovable, Scuffling Rays. Rays starting pitcher Matt Garza and catcher Dioner Navarro got into it in the dugout during a 6-3 loss to the Rangers. You may remember Navarro for his tackle of Coco Crisp in the Red Sox brawl of last week.
• Wizard Cat Defensive Player Of The Game. Evan Longoria, Tampa Bay Rays. As if stretching to snag a felt mouse, the Rays third baseman displays his flexibility against the Rangers in an (alas) losing cause. Wizard Cat gives this play: Two wands.

Contact Wizard Cat at Wizardcat@live.com