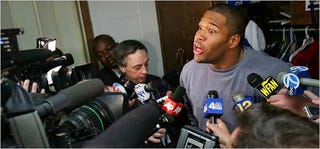 We don't know about you, but we'll kind of miss Michael Strahan, who retired from the NFL today, probably because he thinks coming off a title might make him John Elway. (It won't.)
Strahan's an obviously smart guy who, like Curt Schilling and Joe Montana, always knew just how to position himself as the hero of every story. Also like Schilling and Montana, at his best, he was amazing. Unlike Schilling and Montana, he was unable to keep his personal life out of the papers. But hey: You want New York, you get New York.
In honor of him, we're rolling over right now so that he might have some sort of blog post record.
Oh, yes, and Dominik Hasek retired too. In case puckheads thought we didn't notice.