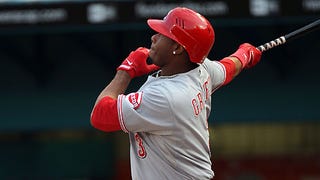 It was kind of surreal to see Ken Griffey Jr.'s 600th home run land in the sparsely populated Dolphins Stadium bleachers. Announced attendance was 16,003 — about two grand above the team's average this season — and aside for a mild scramble for the souvenier, there wasn't much of a fuss. Fitting, in a way, that this milestone should be so non-electric. Griffey has never been controversial (see: Bonds), physically conspicuous (see: McGwire) or comically flamboyant (see: Sosa). No trademark hand gestures or notorious nicknames (does "Junior" even count?). Heck, he didn't even think to shave his head.
Griffey became the sixth player in history to reach 600 homers, getting it off of Mark Hendrickson in the first inning of the Reds' 9-4 win. He joins Barry Bonds, Hank Aaron, Babe Ruth, Willie Mays and Sammy Sosa as the only players to reach the mark. And as one might expect, there's controversy over who got their hands on the ball first, and lawyers are now involved. God bless America's pastime.
So at age 38, one has to figure that Griffey has a shot at bigger game: Sosa at 609*, Mays' 660, Ruth at 714, Aaron 755, Bonds at whatever number* Bonds is at (don't make me look it up). But one gets the feeling that Junior has already had his greatest moment: That day in 1990, Sept. 14, when he and his dad hit back-to-back homers for the Mariners. "My father hit 152 home runs, and that's who I wanted to be like," said Griffey. Yes, it can be that simple. Ken Griffey Jr. has always been someone who was easy to root for, and I hope we all get to do that just a while longer.
• Isn't Back-To-Back-To-Back Physically Impossible? Speaking of the long ball, the Rays had an embarrassment of riches on Monday, as Evan Longoria, Willy Aybar and Dioner Navarro hit consecutive home runs in Tampa Bay's 13-4 win over Anaheim/Los Angeles/California/U.S./Planet Earth. Longoria added another homer in the ninth.
• Good Job, Cliffy. Ryan Garko's three-run homer in the first helped Cliff Lee earn his 10th win, as the Indians beat the Tigers 10-2. Now witness the starting pitching stylings of Dontrelle Willis: Eight runs, all earned, three hits and five walks in 1 1/3 innings. Now witness Leyland picking up a large circus mallet ...
• Nick At Night. Say "switch-hitting Swisher" three times fast. Nick Swisher homered from both sides of the plate (there are only two, right?) as the White Sox completed a four-game sweep of the Twins, 7-5.
• Wizard Cat Defensive Player Of The Game. Pittsburgh Pirates bullpen. Diamondbacks pitcher Randy Johnson and Pirates' hitter Doug Mientkiewicz exchange angry words in the 3rd, and both benches empty. But look how long it takes the Pirates' bullpen to cross the outfield to get to the action ... especially that last guy. It's like watching Lawrence of Arabia cross the Nefu. Wizard Cat gives this journey: Two wands.